marknadsföring
Reach more Chinese customers, market your business with Alipay
With Alipay, Chinese tourists will find your business directly on their phones. When arriving at a new city tourists receive a notification in their phone where they can see your products, opening hours and get directions to your store, hotel or restaurant.
marknadsföring
Push-notification
A push notification is sent to the customer's mobile every time they arrive in a new city. The message is linked a city page on Alipay where your store is included.
Purchase button
A shopping tab allows your Chinese customers to quick and easy make purchases in your store.
Coupons
Promote your business with customised offers. With coupons, you will gain the business edge and increase the incentives for purchases.
Store information
Let Chinese customers view your product before they arrive at your store. With Alipay, they will see your business information, your products and get directions on how to find you. All translated to Chinese.
Pictures
With pictures, you will promote your store, products and brands in a visual way. Improve your Chinese customer's shopping experience.
Searchable keywords
With searchable keywords, Chinese tourists will find your store based on different categories, which makes your business stand out when searching for products and brands.
Contact
On your profile, Chinese customers will find all the contact information that they need. Let them easily contact you by phone or email before their visit. You can also link your website or any other social media account.
Reviews
Alipay is linked to China's largest review portals which means that your customers will have access to valuable information directly on your profile.
With our easy-to-use Back Office system, you will have access to all transaction history and information needed for your accounting purposes. The smooth interface allows you to sort between key values and generate reports during specific time frames. You will also have the ability to export reports to Excel and schedule regular reconciliations.
Get access to:
Purchase information
Accounting records
Reports within a defined timeframe
Filtering between key values
Scheduled reports
Chinese tourism in numbers
10
MILLION CHINESE TOURISTS VISIT EU YEARLY
3000
AVERAGE SPENDING PER PERSON
30
PERCENT OF THE TAX FREE SALES IN EU
40
BILLION SPENT IN EU PER YEAR
Increase your revenue and improve customer service
Alipay is a safe, secure and simple way for you to receive purchases from Chinese tourists. Customers pay in Chinese Yuan (RMB) and you will receive the transaction in your local currency. No Chinese bank account is required. Additionally, no changes are required in your cash register. Alipay serves as a stand-alone terminal and all purchases are registered in your current till system. This allows you to get started quick and easy with Alipay.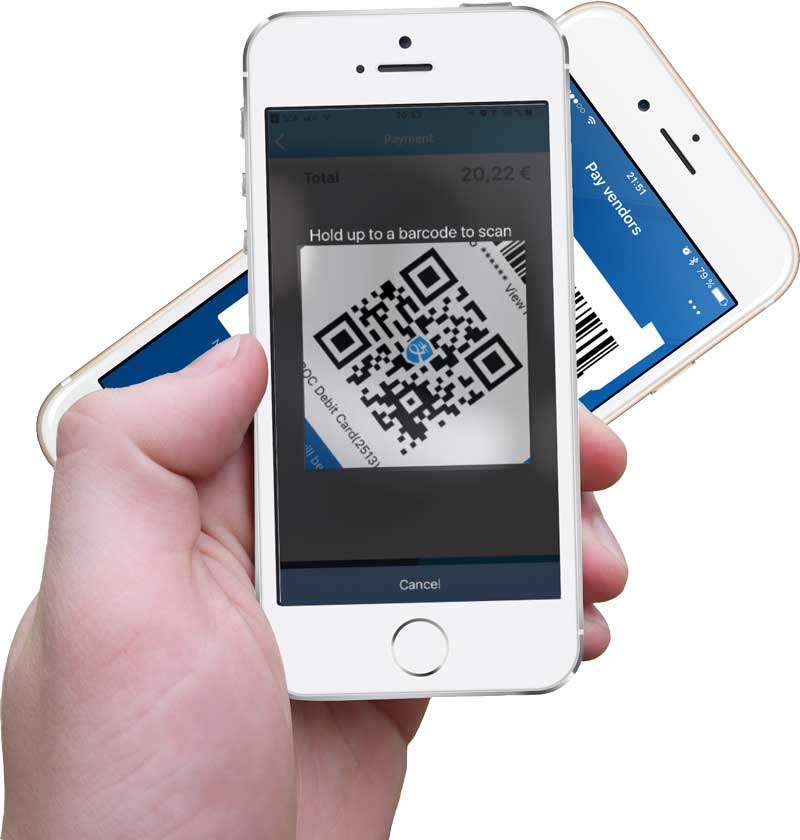 Chose Alipay on your cash register
Our payment solution is integrated into more than 300 POS systems. All transactions are stored in your current cash register
Scan customer's QR code
After that you have entered the total price in your currency, you scan the customer's QR code with either your barcode reader, iPad or any other mobile device
Print the receipt as usual
In addition to the regular receipt, the customer also receives a digital receipt directly from their app

What is Alipay?
Alipay is the world's largest digital payment service and has currently over 520 million active users.
The service is mainly used in China, but as Chinese tourists increase, more and more stores in Europe choose to offer Alipay as a payment method.
Alipay is a multi-platform and is not only used to pay in stores or to make online purchases. With Alipay users can also transfer money, pay bills, buy stocks, collect discount vouchers, buy airplane tickets and much more. All this is done directly in the app.
Alipay also has a travel shopping platform where companies can promote themselves to tourists. Here tourists easily can find connected stores, view their offers and get directions to them.

Is Alipay safe?
Yes. Alipay is a global payment service with more than 520 million active users and security is highly prioritized. The service is monitored in real time with smart algorithms so that fraudulent purchases can be detected quickly. Thanks to advanced encryption technology, Alipay ensures that no information reaches an unauthorized party. Alipay also works with risk management to protect its users, to prevent money laundering and fraud. Good to know is that any unauthorized transaction is fully compensated by Alipay.

Who can use Alipay?
Almost only Chinese citizens are using Alipay. However, Alipay has revealed expansion plans where they will partner up with foreign banks. One example is Japan, where Alipay has said that they will enter at the beginning of 2018.
Today, Alipay require that their users either have a Chinese or a Hong Kong bank account.

What are the benefits for the merchant?
There are several advantages of being connected to Alipay.
Purchases made by Chinese tourists will be very efficient while the transaction cost is significantly lower than if the customer pays with, for example, UnionPay. If your store is affiliated with Alipay, your store will be exposed on the shopping platform.
This means that Chinese tourists travelling in your city easily can find you directly on their mobile. They can also take part of your offers, see your opening hours and find any other important information.
Some of the advantages for your store:
• More Chinese customers
• Marketing on China's largest shopping app
• Lower transaction fee than UnionPay
• Create custom marketing campaigns
• No Chinese bank account is required

What are the benefits for the customer?
Chinese tourists appreciate paying with Alipay. It's a payment service that they usually pay with and also know is safe. With Alipay, Chinese tourists do not need to exchange money and can keep track of their travel expenses.
A purchase with Alipay is quick and easy, which is appreciated for an already time-pressured tourist group. Many Chinese tourists are visiting Europe for the first time and there is a general concern to be fooled since they don't speak the language or know the local currency that well.
With Alipay, Chinese customers can both calculate and pay in their own currency (Chinese Renminbi), which is a strong security factor for them.
Some of the benefits are:
• Better exchange rates than UnionPay / Visa / MasterCard
• Prices are displayed in the Chinese currency
• Bonus points on each Alipay transaction
• Store information is displayed in Chinese
• Shopping in the same way as in China
• Fast and smooth payment